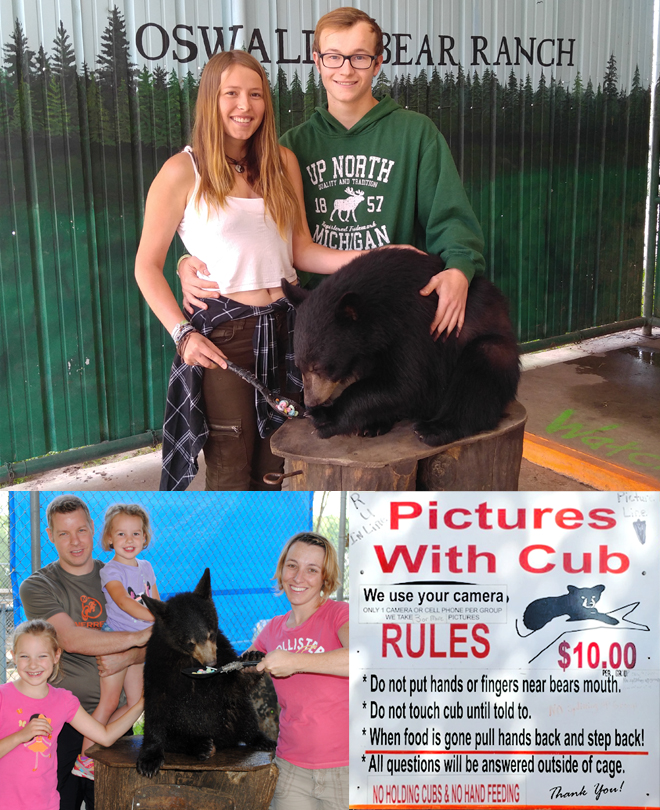 Oswald's Bear Ranch
Upper Peninsula Attraction

Get Your Photos with the Cubs
Welcome to Oswald's Bear Ranch, one top 10 best family friendly Upper Peninsula Attractions located just north of Newberry, MI. This complex is the largest (bear only) Bear Ranch in the entire United States of America. Guests to the Bear Ranch can experience getting their pictures with a cub. The cost is $10 per group. Several photos will be taken with your camera. Cubs enjoy getting their photos taken with you too and enjoy a treat as they take turns meeting our visitors.

Over the years, thousands of people young and old have enjoyed this experience with the cubs. Some say that this is one thing they can check off of their "bucket list". Every time someone gets this photo opportunity, they are supporting the Oswald's Bear Ranch's efforts to rescue more bears in need, maintain or enlarge their habitats, and make sure the bears enjoy a long happy life.